We are excited to announce that Bobbie Lyons and FitPAWS® have teamed up for Canine Fitness Education.
Bobbie Lyons' K9FITteam trainers are passionate about canine fitness, teaching proper and safe equipment usage with the dog's best interest in mind.
K9FITteam WORKSHOPS:
NEW DATE ADDED!! 
February 8 & 9, 2020 – Las Vegas
STRATEGIES FOR TEACHING PET DOG FITNESS CLASS
at Smarty Paws with K9FITteam member Danielle Hall, CCFT http://www.smartypaws.com/ 
*Download Flyer
__________________________________________________________
STRATEGIES FOR TEACHING PET DOG FITNESS CLASS
When: SEPT 28 & 29, 2019  – 9am to 5pm each day
Where:  CAROLINA RANCH, 6129 NC HWY 42 WEST, GARNER, NC 27529
Geared toward those that want to teach pet dog fitness classes.  If you have ever wanted to add fitness to your class schedule, this is the right class for you.  See more workshop info and prerequisites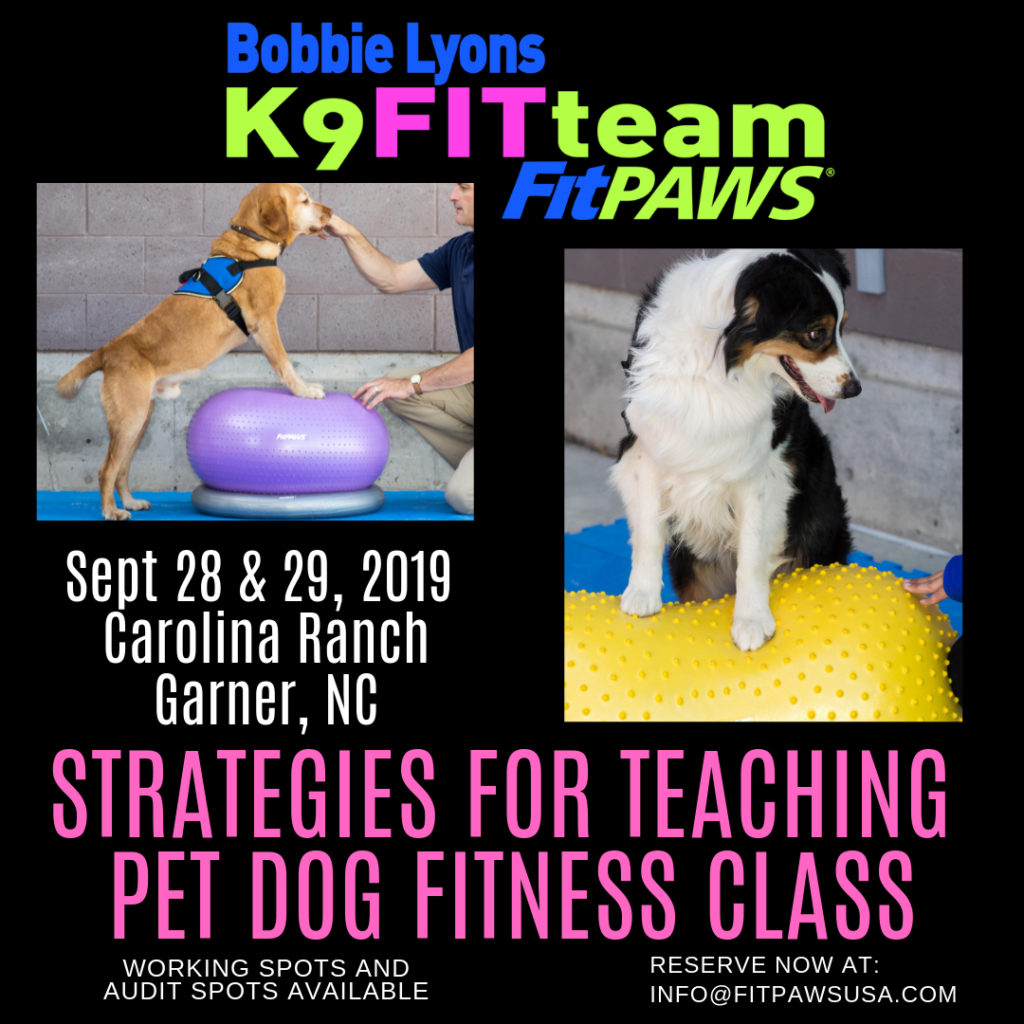 Taught by: Bobbie Lyons K9FIT-team members Carolyn Close, CCFT and Jasey Day, CCFT
Cost Working Participants with Dogs (bring your own or have a volunteer dog to work with – cost for volunteer dog is $45/day which gets paid to the volunteer)
LIMITED SPOTS – Cost for workers: $299
Cost for auditors (observer): $150
Reserve your spot: 970-535-9090 or e-mail info@fitpawsusa.com
(Class Details Below)
PLEASE NOTE: Your spot is not reserved or guaranteed until payment has been processed.
______________________________________________________
Past Workshops
First workshop: Pet Dog Fitness ~ CLASS FULL~
Taught by Bobbie Lyons , CCFT, KPA CTP, Cert CF
When: June 22/23, 2019  – 9am to 5pm each day
Where: DogTown – 2047 N.E. Burnside RD, Gresham, OR 97030
_________________________________________________________
 How to teach pet dogs and pet owners about K9 Fitness exercises and using FitPAWS Equipment
How to teach basic training to pet owners and make it fun – pet dog owners want to see results quickly, this class will help you understand how to achieve success without pushing the dog and handler beyond their ability
How to keep pet dog owners from becoming frustrated during the training process
How to teach safe practices when working with FitPAWS equipment
How to choose the right reward for the dog
Using treat pouches, pockets, food bowls, lickem sticks, lickabale options
How to teach pet dog owners to communicate with their dog
How to keep exercises with FitPAWS equipment at the right level for the dog and owner
How to teach pet owners to inspire their dog to use FitPAWS equipment
How to teach group classes (several class ideas will be demonstrated)
Fun ways to engage the pet dog in activity
Fun ways to play with the pet dog while increasing activity
A variety of training methods will be used
Shaping – Not all pet owners will want to learn this but we will go over marking behavior and proper reward timing and placement
Luring – a specific way to encourage equipment and body focus
Nose targeting – super easy to teach because most dogs will naturally come to the hand
Pre-requisite:  Interested in offering K9Fitness classes.   If you are a Certified Canine Fitness Trainer (CCFT) this is a great class to help you market to pet dog owners, get class ideas, and learn how to work better with pet dog owners. If you are a dog trainer looking to add to your services, this class is a great place to start learning proper use of FitPAWS equipment while keeping things safe for the dogs and handlers.
Note:  this class is VERY geared toward teaching the pet dog and pet dog owner.  The focus will be FUN, getting dogs MORE EXERCISE physically and mentally, while teaching some great concepts for pet dog fitness classes.
Meet the Bobbie Lyons K9FITteam
Bobbie Lyons, CCFT, KPA CTP, Cert CF Pawsitive Performance & Bobbie Lyons Canine Campus, Oregon
​Danielle Hall, CCFT K9BeneFit, Southern California
Lisa Schmit, PhD, CCFT  In the Zone Agility, Illinois
Richard Seltzer, CCFT, SAMP, Hands Helping Paws Canine Massage, Oregon
Carolyn Close, M.ED, CCFT Carolyn Close Canine Fitness, Rhode Island
Dee Close, CSAMT, CCFT K9 Massage Matters,, Rhode Island
Kirsten Holt, M.S., CCFT Wycked Fit K9, Ohio
Jasey Day, CCFT Day Fit Dogs, North Carolina
International Team Member
The experience of this group is a huge asset to the learning environment and the ability to work with dogs of all breeds and abilities. The members of the Bobbie Lyons FITteam are all dog trainers and personally involved in agility, flyball, dock diving, nose work and schutzhund and we have a certified canine rehabilitation practitioner, human and canine PT, massage therapists, and of course, they are all very passionate about K9Fitness. Education backgrounds are in small animal training, animal sciences, animal physiology (equine emphasis), veterinary medicine, canine rehabilitation, physical therapy, canine massage and canine fitness.
Call to Reserve your spot: 970-535-9090 or e-mail info@fitpawsusa.com