Description
"Lots of Great Exercises"
A classic for the sporting dog! 30 fun exercises designed to strengthen, stretch and develop body awareness and endurance. Most of the exercises can be done without any additional equipment. Increase the difficulty of some of the floor exercises by moving them to an unstable surface like a FitPAWS® Peanut. Small section on balance discs.
The DVD is divided into four sections to help you target the training you need: Strength Exercises, Body Awareness (Proprioception) Exercises, Stretch Exercises and Endurance Exercises.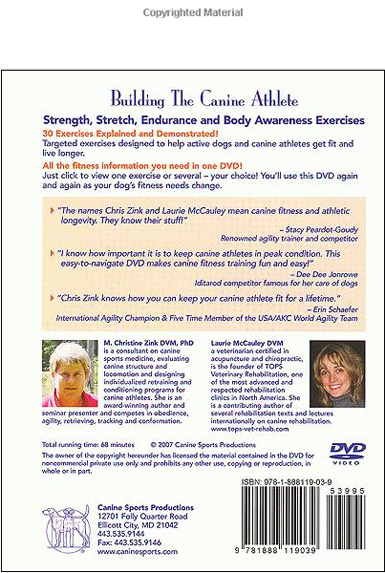 These exercises are designed to help active dogs and canine athletes get fit and live longer. They are also a lot of fun for you and your dog. Developed by two experts in the field of canine conditioning: M. Christine Zinc DVD, PhD and Laurie McCauley DVM.
68 minutes.