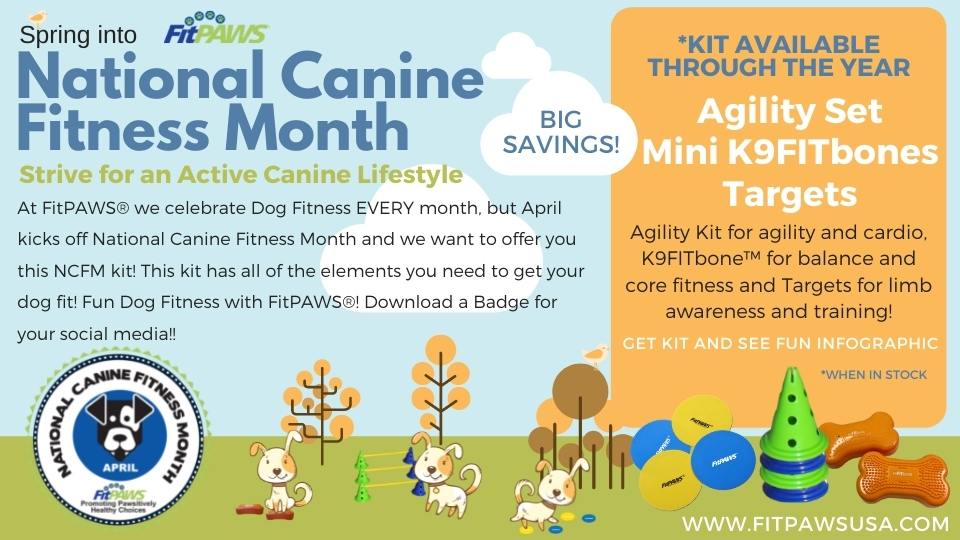 We celebrate Canine Fitness every month, but FitPAWS founded National Canine Fitness Month, to bring awareness and remind everyone to keep your Dog Active and Fit!  – Kit available through the year.
* Post your pics on social media using # caninefitnessmonth #ncfm
Like may of their human counterparts, too many dogs suffer from obesity and "sedentarism," the two most common preventable conditions in the canine and human populations. Too much sitting and too many calories in the form of treats or poor nutrition choices often contribute to weight gain. Besides causing our furry friends to have sore joints, difficulty breathing, a higher risk for cancer, canine diabetes and other diseases, obesity also shortens their lives.
Unfortunately, sedentarism has become the normal lifestyle for many dogs and their people. The opposite of a sedentary lifestyle is movement. Playing, being outside, engaging and moving. Canine Fitness Month encourages us to take a step toward a developing a healthier lifestyle and bond with our four-legged family members.
ALWAYS: Check with your veterinarian to be sure your pet is healthy enough for exercise and find out what kind of diet routine Fido should be eating.
Then give some of these tips a try:
Get walking! This is the obvious first and easiest exercise for most canine and human companions. One foot in front of the other and the fresh air will do you both good.
Try active play. Throw a ball, stick or frisbee in a safe environment, or better yet – run or jog with your pet to retrieve it.
Play hide and seek with your pet's daily allowance of treats. Place them behind doors, under bowls and chairs. Make treating an active reward.
For dogs unaccustomed to the game of fetch, use a treat dispensing ball that will interest them in retrieving the ball. It may take time to get them to bring the ball back to you, but once the treat is gone, they will in hopes of more treats. Keep the amounts small and intermittent.
For fitness games. Place an unstable object in front of the food bowl for your dog to step on as they reach for the food bowl to introduce balance activities and limb strengthening as a fun and rewarding game.
Raise the floor. Integrating a platform that can be climbed on, or crawled under, during the day is an excellent way to incorporate movement if space is small and the weather isn't cooperating.
Many dogs are shadows to their canine companions, following us around everywhere we go even if it is just to lie down under foot. Take advantage of this when starting a new workout routine. Encourage them to participate when you put in the cardio or yoga video. When you shuffle across the room, grab a toy and lure them to do the same.
Incorporate some of your pooch's well-known obedience drills – like sit, stand, down – into your yoga routine. When you go into cobra, try asking your loyal pal lie down. When you move into downward dog, have him sit.
Creating obstacle courses indoors and out is possible the whole year round. With a small amount of equipment or none at all, just moving rugs and chairs around to create obstacles will create a workout worthy of both human and canine. The key is to make movement fun for both of you!
Don't have time? Find a Canine Fitness Trainer or a Dog Walker that can help get the recommended 20-30 minutes your dog needs each day.
Videos of exercise ideas with FitPAWS products https://fitpawsusa.com/fitpaws-videos/
HOW TO OBSERVE
National Canine Month starts EVERY April 1 so get moving with your best furry friend. Share your tips and success by using #CanineFitnessMonth, #NationalCanineFitnessMonth and #NCFM on social media.
Promoting Pawsitively Healthy Choices!
Download and add Badge and link to this page! Promote National Canine Fitness Month
LINK:  www.fitpawsusa.com/national-canine-fitness-month  or  www.FitPAWSusa.com/NCFM
Click on image to show full size – download
 Download and share on your site, or social media
International Badges to download
---
HISTORY
FitPAWS® founded Canine Fitness Month to bring awareness to the growing and preventable issue of canine obesity and sedentarism. They have been the leader in canine fitness for more than 10 years. FitPAWS® is passionate about shining a light on the limited amount of movement that dogs are getting and encourage people to get out and move their mutts. They recently developed a certificate program for the very first Certified Canine Fitness Trainer Program with the University of Tennessee. The program provides Trainers, Vets, Behaviorists, and Physical Therapists expertise on equipment and methods to create good, effective canine fitness programs. The Registrar at National Day Calendar declared Canine Fitness Month to be every April beginning in 2017.
There are over 1,200 national days. Don't miss a single one. Celebrate Every Day with www.NationalDayCalendar.com