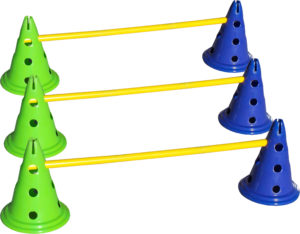 Canine rehabilitation, gait training and dog sport cross-training rises to a whole new level of fun and excitement with these nine exercises!
The FitPAWS® Hurdle Set and Agility Kit are great for the backyard agility enthusiast, traveling animal rehab practitioner or professional dog trainer.
Grab your Agility / Hurdle Set, grab your canine,… And go!  *note some of the exercises require the Hurdle set
CanineGym® Gear Agility Kit  is  fun.dog.fitness
• 6 – 12" Cones, 3 Height Adjustments
• 3 Collapsible, Interlocking Jumping Rails
• Lightweight for On-The-Go Portability
• Some Rail Assembly Required (Space Saving)
FitPAWS® Hurdle Set is a completely adjustable and portable dog agility cone and hurdle set includes four 40″ jumping bars, eight highly-visible orange hurdle cones with cut-out holes for additional bar configurations, eight height-adjustment attachments and a black nylon carrying bag.
---
---