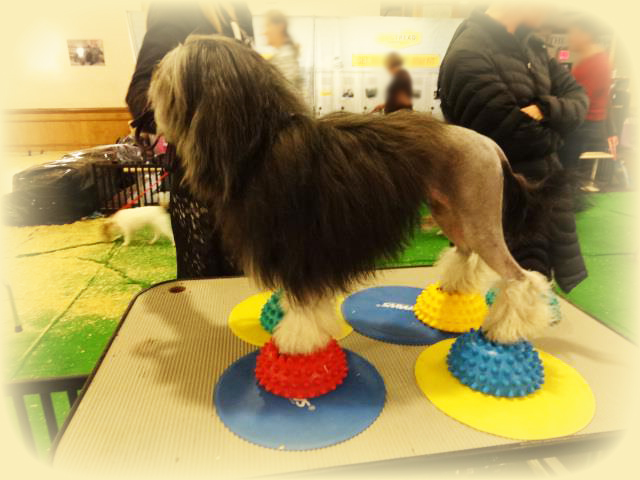 If your dog competes in conformation events, you'll want to make sure your dog has a great top line, balanced muscular definition, trots beautifully in the ring, and is in tip top shape. A strong core is the foundation for all movement, including showing in the ring. Discover the secret of Best in Show Winners by adding strengthening exercises to your dog's activities 3-4 times a week.
Essential tools to help your dog Show Their Best
Instead of stacking your dog on a table or the ground, stack them on their FitPAWS® Peanut.
Benefits of Instability Stacking Training:
Improves muscle tone
Helps balance out weak areas
Improves body awareness
Improves focus
Helps foot strength & muscle memory for stacking on stable surfaces
Need help with Individual Foot Awareness?
Try stacking your dog on a set of FitPAWS® Paw Pods.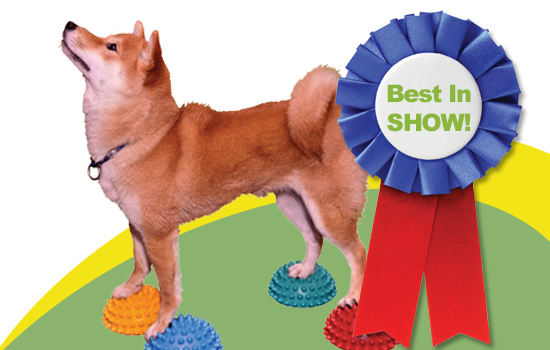 How to train:
You can teach your dog to place their feet on each Paw Pod through mark and reward training,
or you can pick up your dog and place their feet on each paw pod.
Give your dog a treat when you place their foot on a pod and they will trust their foot placement on each pod.
If your dog moves a foot off a pod, he will become unbalanced and will want to put the paw back on the pod.
The nubby side helps with grip-a-bility, and offers sensory feedback to your dog's paws so they know where their paws are in space (known as proprioception).
Alter the balance challenge by changing the inflation in each Pod with the FitPAWS® Dual Action needle pump.
Benefits:
Improved top line
Muscle memory for stacking training
Increased range of motion in joints & elongation of the muscles
Improved body awareness and gait
Overall endurance strengthening and muscle toning
FitPAWS® Hurdle Set – Strut Your Stuff!
Develop body awareness, and a proper gaiting with the FitPAWS® Hurdle Set so your dog can trot his way to his next victory.
"Cavaletti exercises develop natural gaiting, from the feet through to the spine. DVD-CAV provides a step-by-step process that teaches dogs to find their balance and rhythm as well as exercises to help develop versatility and strength. Different exercises develop the rear drive, teach the dog collected balance and strong gaiting action." –DVD CAV
Performance Puppies
Performance puppies can start short training sessions on the low-impact FitPAWS® Balance Disc and Paw Pods as early as eight weeks of age.
What benefits have you seen from training your performance pup on FitPAWS® equipment?
Get Started Today!
Help your dog be their best by increasing coordination, balance and strength with consistent training on FitPAWS® Canine Conditioning Equipment. Your dog will stack, look and move better in the ring!
---