Anyone involved in sports or fitness knows that strains, sprains, and injuries are just part of the game. No one can predict when or where an injury will occur, but if does happen we can arm ourselves with the knowledge we need to help support our clients through this down time in their fitness journey.
During this time, not only will we need to support our clients emotionally, but having a basic understanding of how the body recovers and what rehabilitation practitioners are doing to support recovery will go a long way in helping our clients to get though this tough time.
Whether the animal is recovering from a simple muscle strain or whether they had to endure a surgical procedure, practitioners involved in the process will be focusing on the four phases of rehabilitation, which are:
1-Reduce inflammation and pain to ready the muscles for healing
2-Introduce active range of motion
3-Begin muscle strengthening
4-Regain full range of motion and include job-related activities.
Each phase of rehabilitation contains specific goals to get the dog back into working shape.
For the purposes of this article, we will look at shoulder injuries, which are common in athletic dogs in order to examine these phases further.
The goal of phase one is to control pain and swelling, promote healing, gradually increase passive range of motion, and delay muscle atrophy 1. There are several ways to accomplish this. Ice and pain medication can be used to reduce swelling, but also have the added benefit of helping the dog participate in protected activity. Dogs in this phase are in the very early stages of healing and consequently activity must be monitored and performed with the assistance of the rehabilitation team. Th
is type of protected activity serves to introduce passive range of motion to minimize muscle loss, adhesions, and loss of shoulder mobility. This is a very important phase as it sets the stage for the phases to come.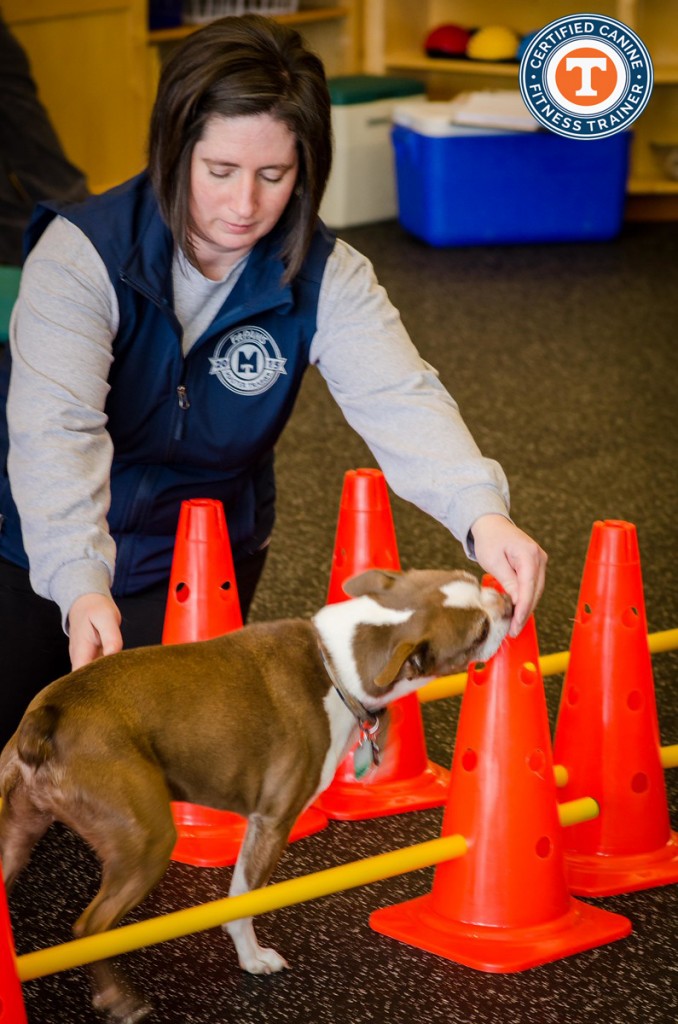 In phase two the rehabilitation practitioners will add active range of motion and strengthening exercises for the various muscle groups in the shoulder 1. It is important to get the shoulder moving and functioning properly after an injury occurs in order to decrease the chances of developing osteoarthritis and other complications. Stretching is one method used by practitioners to improve motion in the joint. Hands on stretching and exercises that promote shoulder flexion and extension such as swimming, horizontal obstacles, walking downhill, and therapeutic ball exercises are all used to improve shoulder function1.
Phase three includes muscle strengthening, endurance, and functional exercises1. Nerve damage and the inability to move the shoulder either through bandages, casts, or cage rest can all have an effect on the strength of the shoulder musculature. Regaining that strength is an important part of therapy and getting the dog back to an active lifestyle. Examples of exercises that practitioners use to strengthen the shoulder include swimming, underwater treadmills, agility tunnels, jumping off graduated heights, and Cavaletti rails1. A practitioner may also incorporate exercise bands to increase resistance and the workload for specific muscles.
Lastly, phase four works the animal up to regaining full range of motion and incorporates sports and job-related activities1. Once they have hit this phase it's about getting them back to what they do best. The dog will be able to increase the time and intensity of exercises and the practitioner will be able to gauge if the dog will have full use of his shoulder depending on the injury. Once a client hits this phase they can start thinking about where they want to go with the dog's fitness level after the rehabilitation practitioner clears them for normal activity. Here we can begin to talk about where they were and where they want to be in the future, making sure a plan is in place to reduce the chance of future injuries, and put the dog in the best place they can be.
We may not be able to be directly involved in the treatment and rehabilitation of a dog after an injury or surgery occurs, but we can support our clients though the process. We need to understand what they have gone through and be there for them when they are ready to jump back in.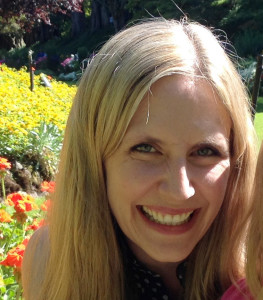 About the Author: Genevieve Cahill, founder of Modern Animal Behavior has been a Certified Veterinary Technician for 15 years. All throughout her life she has been very passionate about two subjects, fitness and behavior. She completed her two undergraduate degrees in Psychology and Communication and is now pursuing her Masters Degree in Companion Animal Behavior Counseling. Recently, Genevieve found a way to merge her two passions via the FitPAWS Master Trainer/ University of Tennessee Canine Fitness Trainer program and her masters thesis work researching how exercise enhances learning/behavior in shelter dogs. Genevieve believes that behavior and exercise can be completely intertwined and is passionate about bringing that message to pets and their owners. Genevieve's background as a Certified Personal Trainer through the National Academy of Sports Medicine (NASM) and her many years as a Veterinary Technician have prepared her to jump right into this up and coming world of canine fitness.
1Marcellin-Little, D.J., Levine, D., & Canapp, S.O. (2007). The Canine Shoulder: Selected Disorders and Their Management with Physical Therapy. Clinical Techniques in Small Animal Practice, 22, 171-182. doi:10.1053/j.ctsap.2007.09.006