Balance training on the K9FITbone™ helps build core muscles, body awareness, and balance.
Comes in 3 sizes – Original (*23″L x 10"W) , Giant (*35.5″L x 15.7″W ), and Mini K9FITbones (11.5″ x 6.5″ x 2.5″) set of 2 *approx sizes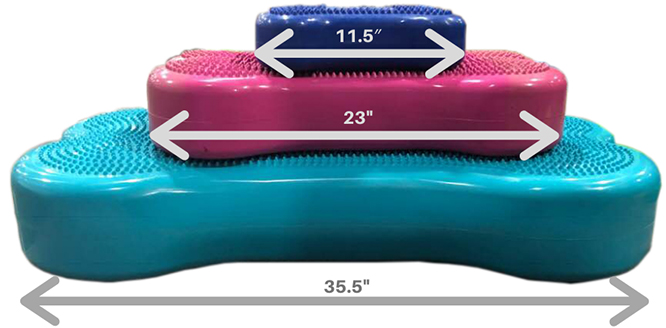 All size dogs can use all sizes of the K9FITbones. Depending on what exercise you would like them to do. If you want dog to stand on the K9FITbone lengthwise then measure the length of your dog standing from front paw to back paw and compare to the lengthwise measurements above. If dog is too long, you can use two K9FITbones.
Difference between smoother and nubby side: "The nubby side stimulates the nerves in the dogs feet and sends info to the brain about their limbs – this is what helps improve the dogs weight distribution and limb awareness."
DOWNLOAD INFLATION AND SIZING FLYER
Exercise Video: https://youtu.be/6bS_oDVYyQ8 *first minute is safety
*regular K9FITbone shown – Exercises can be used for either size
FitPAWS K9FITbone Inflation
The level of difficulty of the K9FITbone can be easily adjusted by removing or adding air with the air pump and needle (Included).
Use air pump with the needle attachment. Insert the needle into the inflation hole which is located on the bottom side of the K9FITbone.
To remove air, remove needle from the pump and insert into the bone, then gently squeeze/push down on the bone to release air.