NOTE : Company Under New Ownership as of January 2018 – CCFT is now run by University of Tennessee – for info on this program – 
___________________________________________________________________
(Longmont, Colorado – September 23, 2015)

For Immediate Release by  Lisa-Marie Mulkern, Lake Dog Media LLC – Ball Dynamics 2015
Certified Canine Fitness Trainer Credential Unveiled – First Ever University Program Developed by University of Tennessee and Ball Dynamics International (Longmont, Colorado – September 23, 2015) FitPAWS® raises the bar for canine fitness today with the announcement that its parent company, Ball Dynamics International, LLC, has joined forces with the University of Tennessee – Office of Professional Development to offer the Certified Canine Fitness Trainer program ("UT-CCFT"). This first ever university credentialed course in canine fitness, conditioning and performance will educate veterinarians, veterinary technicians, dog trainers, and other animal health industry professionals on proper canine exercise form, technique, behavior, and offer programs for optimum performance and injury prevention using science based, force-free training methods and canine-specific conditioning equipment.
The UT-CCFT program is designed and taught by a diverse team of leading veterinarians, physical therapists, behaviorists, nutritionists and dog trainers. The faculty includes Certified Canine Rehabilitation Practitioners and Therapists, some of whom are also board certified by the American College of Veterinary Surgeons and the American Board of Physical Therapy Specialties. It focuses on the essential concepts of canine body mechanics, anatomy, functional movement, behavior, nutrition, and an overview of regulatory issues and precautions.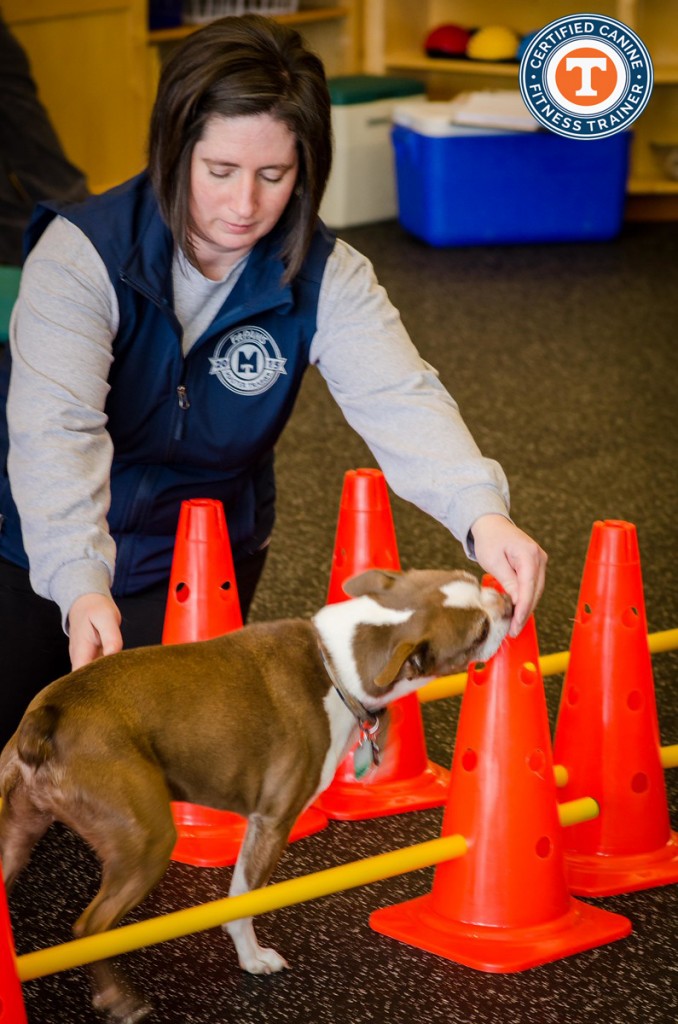 "On behalf of the University, we are excited to be joining with FitPAWS® to co-create the UT-CCFT Credential Program, said Dr. Darryl Millis, Professor of Orthopedic Surgery at the College of Veterinary Medicine at the University of Tennessee. "This program helps reduce the chance of injuries for pet dogs as well as performance dogs. This course will provide key tools as well as knowledge that are needed to develop a proper cardiovascular and strength conditioning program.""With pet obesity at an all-time high, sport injuries on the rise, and owners desiring a higher quality of life for their dogs, there has been a dramatic increase in the interest and value of fitness and conditioning for dogs," said Krista Wickens, President of Ball Dynamics International. "We are honored to be a part of this collaborative effort to improve the standards and expertise of those desiring to coach, advise, train or better understand how to implement a quality canine fitness and conditioning program for any dog."Students will be taught through a blended online learning and in-person laboratory environment to ensure an optimal balance of classroom work and hands on time spent with the dogs. There is an emphasis on movement identification and correction as well as the opportunity to explore specialty life stage requirements for working dogs and sporting dogs, puppies, seniors and pet dogs. Upon successful completion of the program and examination, students will earn the UT-CCFT credential from the University of Tennessee."As an author of multiple books on canine fitness and rehabilitation, and a researcher in veterinary medicine, I am very pleased to be associated with the UT-CCFT program," said Dr. David Levine, Professor and the Walter M. Cline Chair of Excellence in Physical Therapy at University of Tennessee at Chattanooga. "I am extremely impressed by the rigorous nature of the certification courses and the objective, scientifically-based approach taken in developing it."
Professionals and students in the fields of veterinary medicine, physical therapy and occupational therapy as well as handlers, trainers, groomers, behaviorists, kennel operators, pet sitters and others with demonstrated dog handling experience are encouraged to apply for the inaugural program being held November 20-22, 2015. Additional information is available online at http://www.utvetce.com
About Ball Dynamics International, LLC
Ball Dynamics International is one of the most respected companies in the professional human fitness and rehabilitation markets with its FitBALL® brand. In 2010, the company launched FitPAWS® for the canine market after discovering that canine rehabilitation professionals were using FitBALL® products to condition and rehabilitate dogs. Professional-grade heavy-duty materials were developed and formulated into FitPAWS® products to meet dog-specific standards. The goal of the FitPAWS® brand is to discover, develop and deliver innovative canine fitness, rehabilitation, performance products and services to help dogs live healthy lives.
FitPAWS® is globally recognized as the leader in professional canine conditioning equipment and programs and has come to symbolize the means for canine professionals, owners and handlers to "encourage life-long canine health through exercise". Whether it's preparing for a clean run during an agility trial, recovering from an injury or preparing for a weekend back pack trip, FitPAWS® has the solution.
About the University of Tennessee – Office of Professional Development
The University of Tennessee – Office of Professional Development offers courses and credential programs through its partner Northeast Seminars www.neseminars.com via the website www.utvetce.com. To date, more than 1,000 professionals including veterinarians, veterinary technicians, dog trainers, and others have qualified for credentials such as CCRP, CERP, Nutrition, and Pain Management. UTVetCE offers a blended learning format through a combination of online courses and in-person labs. Courses and labs draw from industry leaders to create a learning experience based on scientific studies, research, and the latest developments in animal health.
High resolution media photos available by request. Media Contact
– Lisa-Marie Mulkern, Lake Dog Media LLC,
mulkern@metrocast.net
603-630-2613